Smart Card / Java Card
NXP JCOP Product Range
JCOP Version
JCOP 2.3.1
JCOP 2.3.2  
JCOP 2.4.1 R2 
JCOP 2.4.1 R3   
JCOP Type
4x
1x
2x
3x
J2A
J3A
J1A
J2A
J3A
J5A
Communication          
ISO 7816, T=0, T=1 (communication speed,kbit/s)
223.2
223.2
223.2
223.2
223.2
223.2
223.2
223.2
223.2
223.2
ISO 14443 T=CL (communication speed, kbit/s)
424
-
-
424
-
848
-
-
848
848
USB 2.0 LS
yes
-
-
-
-
-
-
-
-
-
NFC
S2C
-
-
-
-
-
-
-
-
S2C
PN65
Memory
Available EEPROM Options KByte
72
10/18
10/18/36
12/36/72
40/80
40/80
20
20/40/80
/95/128
20/40/80
/95/128
80
ROM (free for Applets,up to KBytes)
65
17
13
46
76
76
76
76
76
76
APDU Buffer (RAM/Bytes)
261
261
261
261
1462
1462
1462
1462
1462
1462
JC&GP
Java Card Version
2.2.1
2.2.1
2.2.1
2.2.1
2.2.2
2.2.2
2.2.2
2.2.2
2.2.2
2.2.2
Java Card STATIC Option (EEPROM versions)
-
10
10
12
-
-
-
-
-
-
VGP CIR
2.0.1
2.1.1
2.1.1
2.1.1
-
-
2.1.1
2.1.1
2.1.1
2.1.1
GlobalPlatform
2.1.1
2.1.1
2.1.1
2.1.1
2.1.1
2.1.1
2.1.1
2.1.1
2.1.1
2.1.1
SCP Secure Channel Protocol
SCP01
SCP02
SCP01
SCP02
SCP01
SCP02
SCP01
SCP02
SCP01
SCP02
SCP01
SCP02
SCP01
SCP02
SCP01
SCP02
SCP01
SCP02
SCP01
SCP02
Cryptography
DES/TDES[bit]
56
112
168
56
112
168
56
112
168
56
112
168
56
112
168
56
112
168
56
112
168
56
112
168
56
112
168
56
112
168
AES [bit]
-
-
256*
-
256
256
256
256
256
256
RSA [bit]
2432
-
2432
2432
2048
2048
-
2048
2048
2048
ECC GF(p) [bit]
-
-
-
-
320
320
-
320
320
320
ECC GF(2n) [bit]
239
-
239
239
-
-
-
-
-
-
SEED [bit]
128
-
128
128
128
128
-
128
128
128
SHA
SHA-1
-
SHA-1
SHA-1
SHA-1/2
SHA-1/2
-
SHA-1/2
SHA-1/2
SHA-1/2
MD5
yes
-
yes
yes
yes
yes
-
yes
yes
yes
Random Number Generation
yes
yes
yes
yes
yes
yes
yes
yes
yes
yes
RSA Key Generation
yes
-
yes
yes
yes
yes
-
yes
yes
yes
Additional Features          
Logical Channels
1
1
1
1
1
1
1
1
1
1
RMI Remote Method Invocation
yes
yes
yes
yes
yes
yes
yes
yes
yes
yes
SSD Supplementary Security Domain support
yes
-
yes
yes
yes
yes
-
yes
yes
yes
Mifare™ API
yes
-
-
yes
-
yes
-
-
yes
yes
Extended Length APDU
-
-
-
-
yes
yes
-
yes
yes
yes
Random UID
yes
-
-
yes
yes
yes
-
-
yes
yes
Custom ROM Masking
yes
yes
yes
yes
yes
yes
yes
yes
yes
yes
Technology
0.18μm
0.18μm
0.18μm
0.18μm
0.14μm
0.14μm
0.14μm
0.14μm
0.14μm
0.14μm
All Delivery Types Wafer and Module(as available for SmartMX Family)
yes
yes
yes
yes
yes
yes
yes
yes
yes
yes
eGov + Banking Features          
BAC Support (ICAO9303)
yes
-
-
yes
yes
yes
-
yes
yes
yes
EAC Support (ICAO9303, BSI TR 03110 v1.1.1)
-
-
-
-
yes
yes
-
yes
yes
yes
BAC/EAC Accelerator API
-
-
-
-
yes
yes
-
yes
yes
yes
BAC Performance (20KByte Read)
7s
-
-
7s
-
1.2s
-
-
1.2s
1.2s
EAC Performance (38KByte Read)
-
-
-
-
-
< 5s
-
-
< 4s
< 4s
PACE Support (BSI TR 03110 v2.0.3)
-
-
-
-
-
-
-
-
yes
yes
eGov + Banking Applets          
EAC / BAC Applet
-
-
-
-
EAC v1.0
EAC v1.0
-
EAC v1.2
EAC v1.2
-
VISA VSDC
-
v2.7.1
v2.7.1
v2.7.1
-
-
2.7.1
2.7.1
2.7.1
-
MCW M/Chip (Contact)
-
-
4 v1.1
-
-
-
4 v1.1
4 v1.1
-
-
MCW PayPass M/Chip (Dual Interface)
-
-
-
4 v1.3.1
-
-
-
-
4 v1.3.1
-
MCW Lite & Select (SDA & DDA)
-
-
yes
yes
-
-
yes (SDA)
yes
yes
-
MCP Paypass Magstripe transaction support
-
-
-
yes
-
-
-
-
yes
-
Certification & Approvals
EMVCo (HW approval)
yes
yes
yes
yes
yes
yes
yes
yes
yes
yes
VISA
-
yes
yes
yes
-
-
yes
yes
yes
- **
MasterCard PIC+CAST
-
-
yes
yes
-
-
yes
yes
yes
- **
Common Criteria (EAL)
-
-
-
-
5+
5+
-
5+
5+
-
* Available on 72 K version only** EMV compliant
JCOP – The Core of Your Application
# Java Card Operating System provided by one of the leading Smart Card IC vendors.

# Field proven Global Platform / Java Card used world-wide for Banking, Mobile Transactions, Secure Identity (e.g.: ePassports, National ID Cards, Digital Signature Applications, Health Cards, Driving License), Transportation and various other applications.
# Unique Platform Design: Use one JCOP version to address all market segments and applications independent of the form factor (e.g. cards, mobile phones, tokens) and certification requirements (e.g. CC, EMV, FIPS).
# Cost and execution performance optimized solutions based on CMOS14,CMOS090 and CMOS040 secure SmartMX technology.
# Highest security and certification standards: CC EAL 5+/6+ (VAN5), EMVCo Platform, CAST (MasterCard), RISK (VISA) and FIPS.
# Applet solutions for Banking, Mobile Transactions and Secure Identity with certified Applets in ROM. Additionally NXP offers service to 'ROMize' customer Applets.
Applet Information
1) All JCOP products offer the possibility of ROM mask customization with Applets
provided by the customer for high volume projects.
2) Generic JCOP products are delivered by NXP without Applets in ROM,EEPROM or FLASH.
– These products can be customized by downloading Applets to the EEPROM or FLASH by the customer to adopt them for any application / market.
3) NXP offers a market tailored range of products with Applets included in ROM mask
– The specific applets offered by NXP are shown in the Product Portfolio sections of this roadmap.
– Products including NXP provided applets are approved according to corresponding approval processes (e.g.: BAC, EAC, SAC, VISA and MCW).
– Additional customer applets can be added into the EEPROM or FLASH.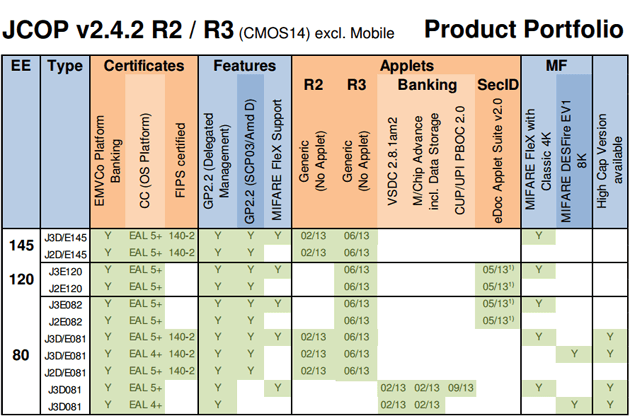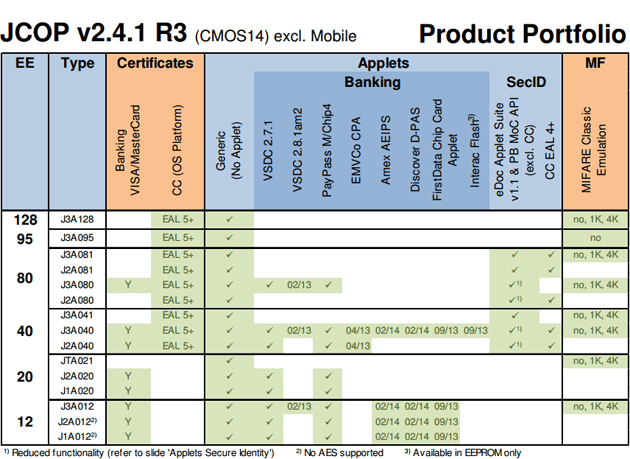 The Java Card Operating Platform (JCOP Range) is a comprehensive operating system for smart cards working off the Java platform. Since 2007, NXP Semiconductors have developed the technology. The technology is used in a variety of industries, and has proven to be a key element of retail and transport solutions.
JCOP-SmartCard as IBM implementation of the JavaCard 2.2.1 OS with 32kB EEPROM, Triple-DES Coprozessor and RSA Coprozessor.
Product Information
JCOP Card 32k is the entry Public Key (RSA) edition. This product targets the higher-end banking- and identity market. It is available on 32kB EEPROM chips. Single cards availible.
For development purpose look at our SDK-section.
Project-based we supply (ask for pricing, availible EEPROM and leadtime) MOQ varies, starting from 200 pcs:
JCOP Card v2
JCOP-10: DES, no SSD, contact interface
JCOP-20: DES, no SSD, dual interface
JCOP-30: DES and RSA, no SSD, dual interface
JCOP-31: DES and RSA, SSD, dual interface
SmartMX family, JCOP Card v2.2
JCOP-10: DES, no SSD, contact interface
JCOP-S-10: DES, no SSD, static, contact interface
JCOP-S-20: DES, RSA, no SSD, static, contact interface
JCOP-S-30: DES and RSA, no SSD, static, dual interface
JCOP-21: DES, AES, RSA and ECC, SSD, contact interface
JCOP-31: DES, RSA and ECC, SSD, dual interface
JCOP-41: DES, AES, RSA and ECC, SSD, dual interface
SmartMX family, JCOP Card v2.2.1
JCOP-41: DES, AES, RSA and ECC, SSD, triple interface (T=0/1/15, power class A/B/C, T=CL up to 424kB, USB according to ISO7816-12)
Standard Features
JCOP Card is an IBM implementation of the Java Card 2.2.1 and Global Platform 2.1.1 basic specifications including refinements from Visa International set in the Visa OpenPlatform Card Implementation Guides. All necessary clarifications from ISO7816 and EMV 2000 are also incorporated into the implementation where so required by the Java Card 2.2.1 and Global Platform 2.1.1 specifications. JCOP 32k is the public-key member of this family. It adds public key (RSA) capabilities. Technical Specifications Communications: ISO7816, T=0 Supported speeds: Default clock rate of 3.57 MHz: 9600 bit/sec [default] Memory availability for applications: EEPROM: Persistent Java heap: 31kB* (without custom ROM applets) Transaction buffer: Size: 512 bytes
Description
Material: PVC, PET, PET-G, ABS
Size: 85.5x54.0mm
Thickness: 0.82mm
ISO 7816 standard protocol
Operating temperature: -20℃ to +50℃ (PVC material)
Printing options:
Offset Print full colour,
Silkscreen print gold/silver colour
Personalization:
Hole punching, Embossed, Hologram
Hot-Stamping silver/gold,
Magnetic stirp, LoCo 300oe, 650oe, HiCo 2750oe, 4000oe
Thermal print number/Barcodes
Inkjet print number/barcode
UV inkjet print number/barcode
Laser print number
Scratch off